Welcome to my Huffer Website! This is a work in process: so far I have posted my research on Descendants of Johannes Hoffert of Berks Co, PA (my 7th-great-grandfather) and several other primary Huffer lines. This site also includes some of the ancestral lines for my wife (Wagner, Talcott and more) and for me (Huffer, Burnham, Clevenger, Shirley and more). I have one primary goal for this website: to make it easier to share my genealogy information with family (whether closely or distantly related) and friends. If you have any questions or comments about the information on this site, please contact me. I look forward to hearing from you. Updated 4/13/2015French Huffers! Descendants of Leopold Huffer (1825-1897) who immigrated from Germany to New YorkAt least 3 sons and 1 daughter did business and lived in or near Paris; most descendants remained in France. Updated 8/2/2014: More 1940 U.S. Census records, more recent obituaries added. Another English line added: descendants of William Huffer, b. abt 1534 Bourne, Lincolnshire, England; additional generations for descendants of William Oscar Huffer (1891-1968) of Marshall County IN ... thanks, Margaret! Updated 8/19/2013: Lots of names & families added in the past several months, including the Lynch/Dufficy Family Tree (daughter Robin's fiancee). 1940 U.S. Census records have been added for OH, IN, MD and several other states. Other states to follow. Updated 11/5/2012: I am working on the descendants of Anna Huffer (1808-1877), daughter of Henry and great-granddaughter of Johannes Hoffer(t). Families include Orrell, Larimore, Crooks, Blaine, Jennings, MacChesney, others. Updated 6/24/2012: descendants of Christian Hartsing of Wood County OH. Two of his daughters married Wood County Huffords. Update 12 April 2012: I have added to the Huffer and non-Huffer descendants of Lewis Madden Huffer of Auglaize County OH (my g.g.grandfather). I have also expanded my research on English Huffers (see the summary page below). Finally there is additional information on the Clevengers of Allen County OH who are connected to at least 2 Huffer lines (including my maternal grandparents). Go to http://hufferfamily.com/HufferFamilies.html for a summary of the Huffer/Hoffer/etc. lines I am currently working on.
If you have any questions or comments about the information on this site, please contact us. We look forward to hearing from you.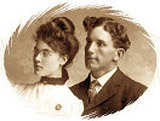 Which branch are you from?